OPTICAL Filters For Electronic Displays
ECS180 Series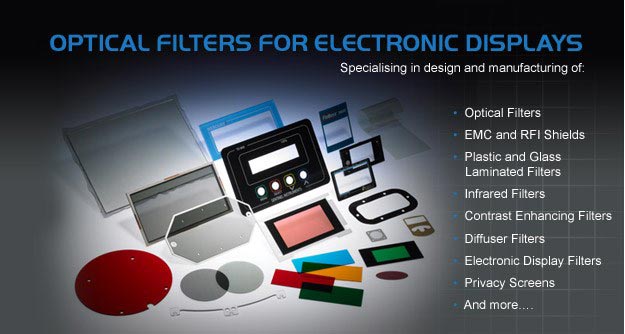 East Coast Shielding is the exclusive national distributor for Instrument Plastics Limited, Maidenhead, Berkshire, UK
We are pleased to offer the complete line of Instrument Plastics' Optolite Enhancement Filters, Shielded Windows, Instrument Glasses and Polarized Filters for use in your electronic display applications.
East Coast Shielding & Instrument Plastics Limited offer prototypes and low volume production as well as large volume production of filters, displays & laminates. We can also offer special filters in all qualities to meet the customer's specifications.
Lead Times are typically 3 weeks for delivery from date of order placed. Longer lead times may be necessary for large batches or more technically involved parts.
OPTOPLITE HSR (High Scratch Resistance)
Optolite HSR is a plastic material (CR39) developed t o be optically clear with excellent contrast enhancement. It is both scratch & chemical resistant without the need for hard coating. HSR can be cast between glass molds in common sheet thickness ranging from 0.5mm to 8mm. HSR can be gently formed to large radius curves in one plane if needed.
Thickness tolerance +/-0.02mm.
East Coast Shielding & Instrument Plastics Limited can also offer very high thickness tolerance sheets on request with a tolerance of -/-0.025mm.
OPTOLITE ACRYLIC
Optolite Acrylic is another form of plastic that is optically clear and gives excellent contrast to any display. This product can be cast in custom sheet thickness ranging from 0.5mm to 8mm. Optolite Acrylic is available as a clear casting or in any shade/tint of a specified color desired. The sheets can be cast with various non glare finishes to one or both faces if required. Hard coatings can also be applied on request.
Thickness tolerance is +/-0.2mm.
SHIELDED OPTOLITE HSR AND SHIELDED OPTOLITE ACRYLIC
East Coast Shielding & Instrument Plastics Limited offer a range of highly effective RFI and EMI shielded window options. Shielded Optolite windows incorporate a micro fine wire mesh that is cast into each sheet. The mesh diameter ranges from 0.001" to 0.002". We also offer 50 OPI, 80 OPI, 100 OPI meshes in a blackened copper or blackened stainless steel.
The wire mesh can be angled to prevent pixel fringing on certain displays. It is also possible to offset the mesh in a cast window if needed. Each shielded window is edge terminated with a conductive busbar. The Optolite window can be cast in custom sheet thickness ranging from 1.0mm to 8mm. Non glare finishes can be cast into one or both surfaces if required.
OPTOLITEtm IR. INFRA-RED FILTERS
Optolite IR (infra-red) broadband acrylic filters have been specially formulated to transmit infra red radiation at wavelengths greater than approximately 750nm and are thereby virtually opaque to visible light.
Optolite IR (infra red) is eminently suitable for use in photometric systems which are triggered by near infra red signals but which must operate in environments with high levels of visible radiation. Optolite IR (infra-red) eliminates the visible spectrum and so im-proves the effectiveness of the system by increasing the signal-to-noise ratio. Specific applications include remote controls, security systems, presence sensing devices, proximity sensors and scanners.
Optolite IR Transmission Characteristics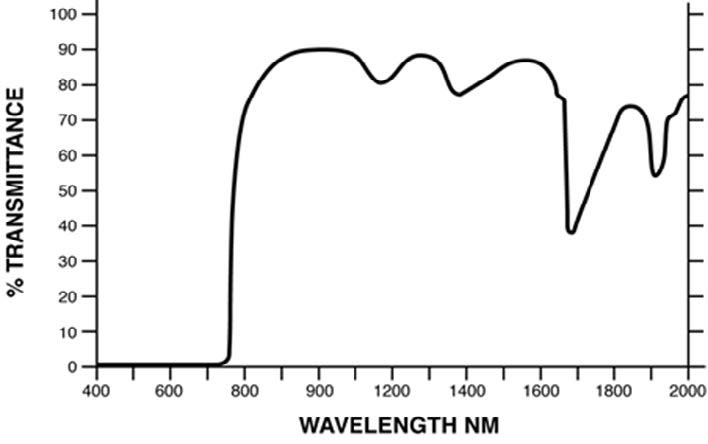 Features include:
Excellent Transmittance up to a maximum of approximately 90% in the infra red region from 850nm—2000nm, 50% transmission at 780nm and effectively 0% below 740nm in the visible spectrum.
Cast-in Non-Glare Finish available as an option to cut down any unwanted front surface reflections.
Filters supplied to Customer Drawings in standard thickness of 0.5, 1.0, 1.5, 2.0, 3.0mm. Other, non-standard thicknesses and tight tolerances can be supplied to order.
EMC/RFI Shielded Filters in Optolite IR Acrylic with encapsulated mesh are also available.
PLASTIC & GLASS LAMINATED FILTERS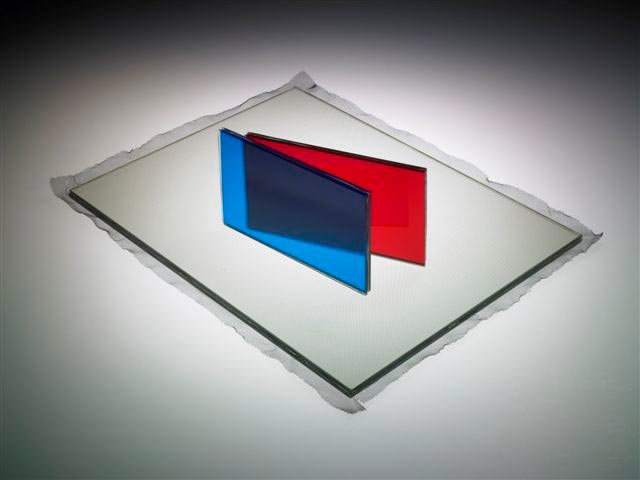 Instrument Plastics Limited has invested in a new state of the art laminating facility and can now manufacture small as well as large laminated filters and windows in polycarbonate or glass. The maximum size of a shielded filter that can be laminated is 1900mm x 1100mm (48"x27") with a mesh set at 90 degrees. The maximum non shielded window that we can offer is 200mm x 1500mm (50"x38") . Laminations of fine wire mesh for shielding application, colored optical films, laminated filters, laminated infra-red films laminated privacy films are all possible. Multi-layered laminations can also be fabricated for customer applications (e.g. MRI Scanners).
Various non-glare finishes are available in glass and polycarbonate as well as multi-layered coatings (anti-reflection, anti-fingerprint, ITO (Indium Tin Oxide), anti-Newton ring & bio-coatings). Laminated shielded windows can be edge terminated with a conductive busbar or a mesh flying lead.
LINEAR AND CIRCULAR POLARISING FILTERS
Linear & Circular polarizing sheets can be either laminated or cut to accurate shapes or sizes. The standard sheet size kept in stock is 1000mm x 430mm.
CLEAR CONDUCTIVE FOILS (ITO FOILS)
ITO (Indium Tin Oxide) is a clear conductive film used for shielding. The material comes in rolls approx. 30" wide and 0.175mm (0.006") thick. 4 Ohm, 8 Ohm and 15 Ohm foils are kept in stock in either standard or non-glare finishes. Other Ohm ratings are available on request. These films can be cut to required sizes and shapes on our precise CNC Zund machines. They can be sup-plied as sheets or as laminated panels.
PRIVACY AND LIGHT CONTROL FILMS
East Coast Shielding & Instrument Plastics Limited can provide 3M Privacy films for customer applications. These films are sheets of laminated material with micro-fine louvers encapsulated within. This material is specifically used when privacy is im-portant in a display such as Data Entry or ATM machines. The screen can be viewed head on, but at approximately 40 degrees either side of head on, the screen goes blank. The material can be cut and fit to screens and laminated into glass or plastic displays.
DIFFUSION FILTERS
Light diffusion filters manufactured from Optolite HSR can be produced in thicknesses of 1mm (0.040"). Light transmission rates of 40% to 87% are available in 12 steps depending on the customer's needs.
Presenting the Optolite EmiShield Micromesh
As a leading manufacturer in bespoke filters, we at Instrument Plastics are always delighted to be able to present a new product to this ever-evolving market. Our latest design innovation has been specifically developed to revolutionize the play-ing field by redefining what you thought you knew about shielding performance and clarity.
The Optolite EmiShield is an optical solution developed primarily to suit the needs of the Avionics, Military and Medical industries. Representing the very best in design innovation, it encapsulates the needs of an increasingly demanding market and translates them into unequalled light transmission, peak clarity and incomparable noise reduction. Our rigorous devel-opment and testing procedures means we're proud to say that the Optolite EmiShield isn't just the best product of its type – it's also the smartest performing product developed for use from within today's highly competitive optical filter industry.
About EmiShields
Those in the know will be familiar with the uses and applications of EmiShield products. However, some of our customers may be interested to learn more about how these clever devices protect our electronic equipment from signal interference.
Because we live in an increasingly wireless world, our airwaves are becoming more and more polluted with wireless signals which can negatively affect the performance of any type of wireless device. Think about how your phone interferes with your radio – this is exactly the type of problem that can be solved by using an EmiShield. However, because our electronic devices are becoming increasingly sensitive and complex – especially when produced to meet the requirements of highly demanding industries such as aviation and the military – our shielding requirements have naturally evolved and must be addressed by rigorous innovations in the field of optical filter manufacturing.
The Benefits of the Optolite EmiShield Micromesh
Standard EmiShields would typically be coated with Indium Tin Oxide (ITO), which is designed to enhance conductivity whilst reducing glare. However, technological advancements have created the need for enhanced reduction methods that are capable of optimizing EmiShield performance without compromising on visibility. This is where our new Optolite EmiShield Micromesh comes in.
Scratch-resistant, durable and featuring a larger open area for enhanced light transmission, the Optolite Micromesh stands head-and-shoulders above the competition in quality of design, durability and conductivity. Offering greater clarity and shielding performance that its ITO-coated counterparts, it's ideal for use with laminated glass and plastic windows, as well as with electronic displays. Standard mesh windows would typically have a grey tint and therefore offer compromised visi-bility. Not so with the Optolite EmiShield Micromesh. Expect clear skies as far as the eye can see and detail so sharp you'd be forgiven for forgetting you were using any kind of shield – although the unparalleled performance of your electronic devices should be a dead giveaway.
The enhanced design of our brand new micromesh also removes the need for expensive bus bars on stepped windows, mak-ing it the most versatile and easy-to-install product of its kind and the best solution for when you need to maximize space whilst minimizing cost.
Technical Specifications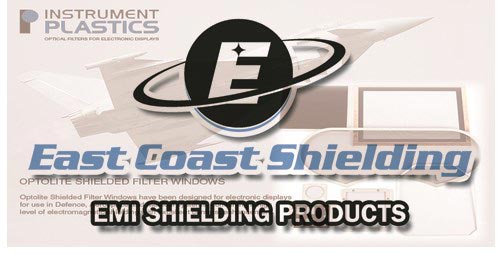 The Optolite EmiShield Micromesh has been developed specifically to meet the high performance requirements of demand-ing industries, including, but not limited to, avionics and the military. Consisting of a straightforward four-tier structure, which comprises a masking film, Cu mesh enveloped in a blackened layer, PET film and release liner, its basic properties are designed to enhance durability without compromising flexibility or optical output, as evidenced by our technical datasheet (available to view online here). All of our products can be manufactured to suit individual specifications, meaning the Opto-lite EmiShield Micromesh is potentially the perfect product to suit any and all of your optical filter needs.
Confidence in Quality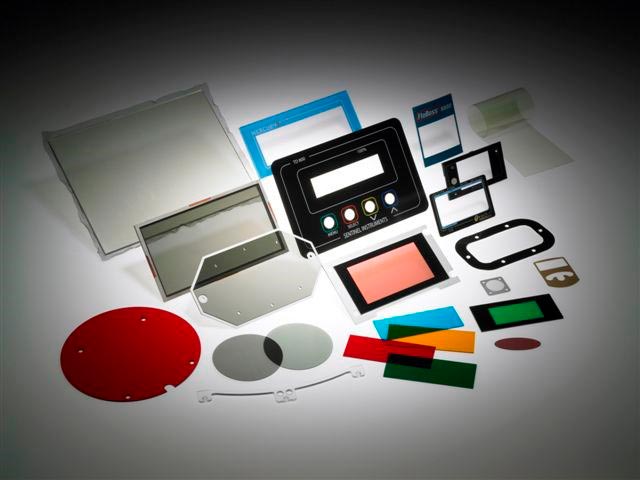 Quality control is of paramount importance to the Instrument Plastics innovations team, which is why all of our products are tested according to a strict assurance procedure. We also showcase our technological innovations at exhibitions around the world, drawing upon carefully considered market research to deliver high performance optical solutions which are designed to remain relevant in a constantly evolving industry.
Ordering the Optolite EmiShield Micromesh couldn't be easier. Simply get in touch via our contact form or pick up the phone to have a chat with our dedicated customer care team. Whatever you need, whenever you need it: Instrument Plastics are the number one choice for high quality bespoke optical filters.